Need a Break? Head to the Cafe!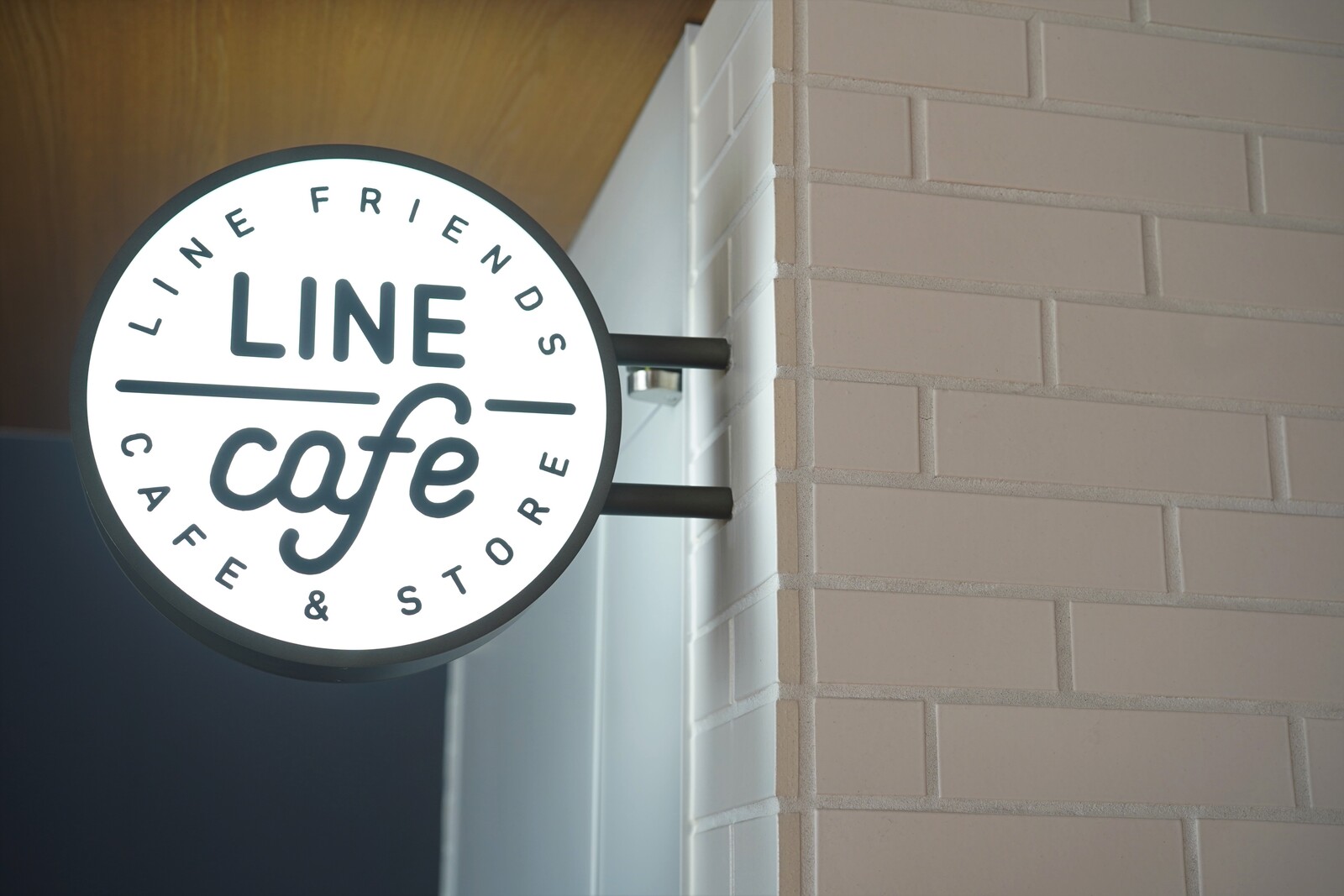 Maiko
Hi, this is Maiko Hori with the LINE Fukuoka Press blog. I've got lots of energy and drive! I love bread, café lattes, and my dog!
By the way, how cool is it that we have a cafe in our office? I made an executive decision to create a series that I've named LINE Fukuoka's "Suteki Series" to introduce the things we have available to us that I've been wanting to show off for a long time.

In this second installment of the series, I'm going to show you the LFK Cafe, which is equipped with an authentic coffee machine and dedicated staff! Even if you haven't read the first installment of the series, a link will be available at the end of this article so I hope you'll take a look.

The reason I chose our cafe for the theme of this article is...

As much as I'd like to show you our offices, I love our cafe and its staff so much that I wanted to brag a little bit! Sorry if it sounds like I'm showing off, I just love our cafe so much...
But I hope that you'll read all the way to the end!
First cup ☕ The LFK Cafe Space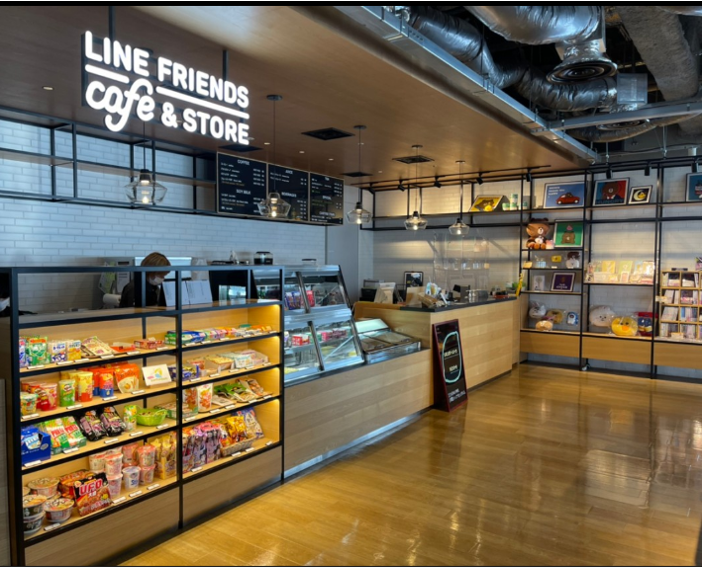 First, let's take a look at our "cafe space" which includes the LFK Cafe. LINE Fukuoka offices separates work areas and break areas so that everyone can easily switch between work (ON) and rest (OFF).
The cafe space was created as one of those rest areas, and in the corner the LFK Cafe offers drinks and snacks for purchase.
By creating an environment specialized for breaks, LINE Fukuoka employees can clearly separate their work from their breaks.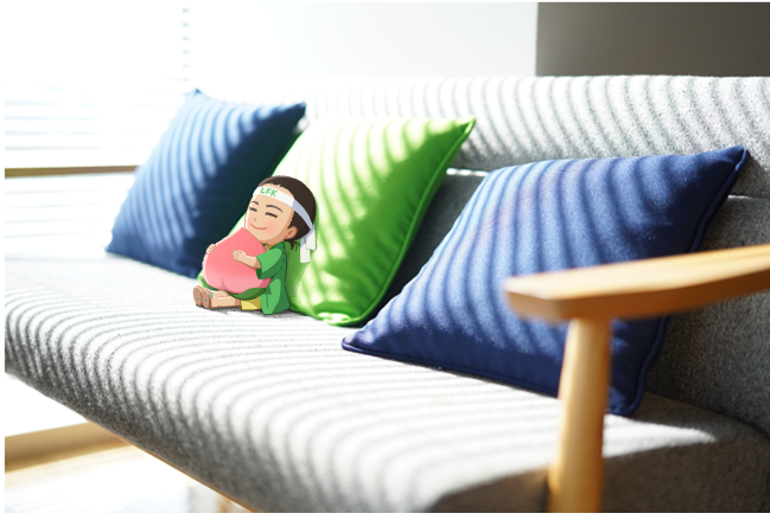 Take a look!


Couches like this are set up by the windows in our cafe space. On sunny days we get bright sunlight shining through like this. The space is so inviting to take a break in that you almost forget you're at work.
On days where the weather isn't so great, and later in the day when the sun sets, the atmosphere is quite calming, and this lovely area is one of my favorite parts of the office.

At the LFK Cafe you can also buy many other things besides drinks.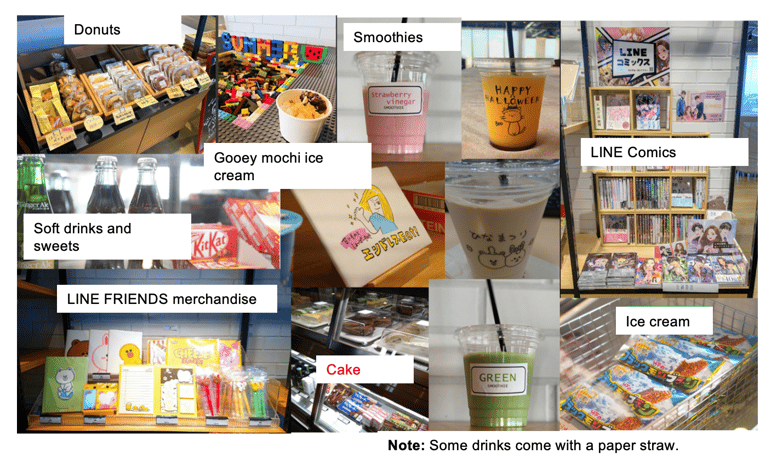 Take a look at this!

Boxed lunches, snacks and sweets, cute LINE FRIENDS merchandise, and LINE comics (original comics created by LINE) are all available for sale. The cute illustrations you can see on the cups in the middle of the picture were drawn by members of the cafe staff. Their hospitality is so heartwarming!
Second cup ☕ Cafe initiatives
The LFK Café doesn't just sell drinks and boxed lunches, they're also involved in a variety of other initiatives! In this article, I'll tell you about four of them.


First up is:
"✨ Supporting employee health"


The smoothie in the picture above was created by the cafe staff, and combines healthy ingredients like vinegar, fruit, and vegetables.




Maiko
It's so good! Yes there's vinegar in it but it's mild and easy to drink. I liked it so much that I bought a blender to make my own at home!
The cafe also comes up with new seasonal drinks, which makes the menu more exciting. There are new drinks to try each month!


This month's seasonal drink is "lemon cream soda." Everything is made in-house including slicing the lemons. The combination of carbonation, sweet and sour lemons, and sweet vanilla ice cream make this drink perfect for a hot summer day!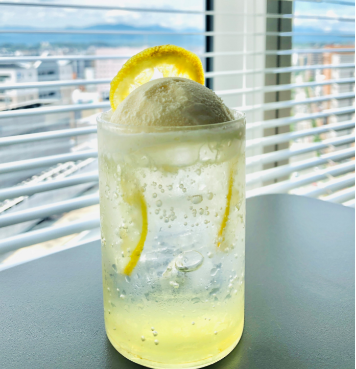 The second initiative is:
"🍴 Boxed lunches to support local restaurants"


In addition to the usual boxed lunches, the cafe has been selling lunches from Fukuoka restaurants since February. This project is a part of the measures by Fukuoka Smart City Community that LINE Fukuoka is a part of to support restaurants.
After difficult negotiations concerning pricing and well-balanced volume, LINE Fukuoka now offers a wide variety of lunches.
A big thanks to the restaurants and members of the café staff for providing us delicious food!

Third:
"🌎 The cafe works to achieve Sustainable Development Goals (SDGs)"

Drinks sold at the cafe come with straw-less lids to avoid the use of straws in an effort to conserve the environment by reducing plastic waste.
Note: Some drinks come with a paper straw.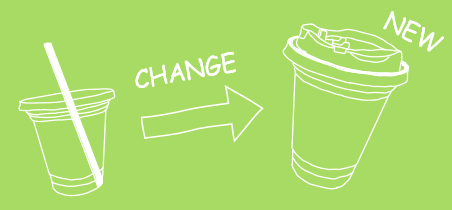 Finally, the fourth initiative:
"💰 The LFK Cafe is cashless"


Paying at the café is completely cashless. You can use LINE Pay, prepaid cards from transportation companies, Edy, ID, WAON, or credit card. Payment is smooth because there aren't any cash transactions, and being able to pay by card or smartphone also keeps things more hygienic. LINE Fukuoka's cafe was cashless, even before it started to be recommended around the world!

The LFK Cafe is friendly to employees, the environment, and hygienic.

By the way, my routine is buying an iced café latte in the morning and afternoon at LFK Cafe. As I open the door, I hear the clink of ice cubes being put into a cup. There have been many times my drink is already finished before me by the time I get to the register! (Laughs) I'm always in a rush so it's nice being able to get my drink at the perfect timing.

Maiko
Is it possible that staff remember what I like to drink?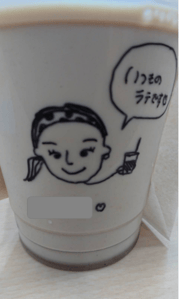 So...
Third cup ☕ "Interview with LFK Cafe staff"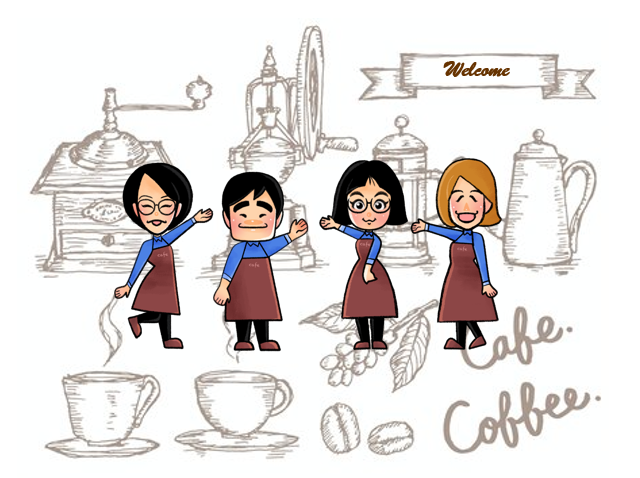 Q: Do you know what we're going to order?
For regulars, we try to be ready to serve them their usual as soon as possible. We also try to keep track of small things like how they pay, if they want ice, or if they take their drink with less espresso, not just what they're going to order.

Maiko
But LINE Fukuoka has so many employees... It's amazing that they know not only what we want but how we want it!
Q: Are there any employees that came to the cafe and left a strong impression?
It's crazy to imagine now but once we had an employee who rode into the cafe on a hoverboard ¹ to buy a drink. (Laughs) They were really smooth, and didn't wobble at all!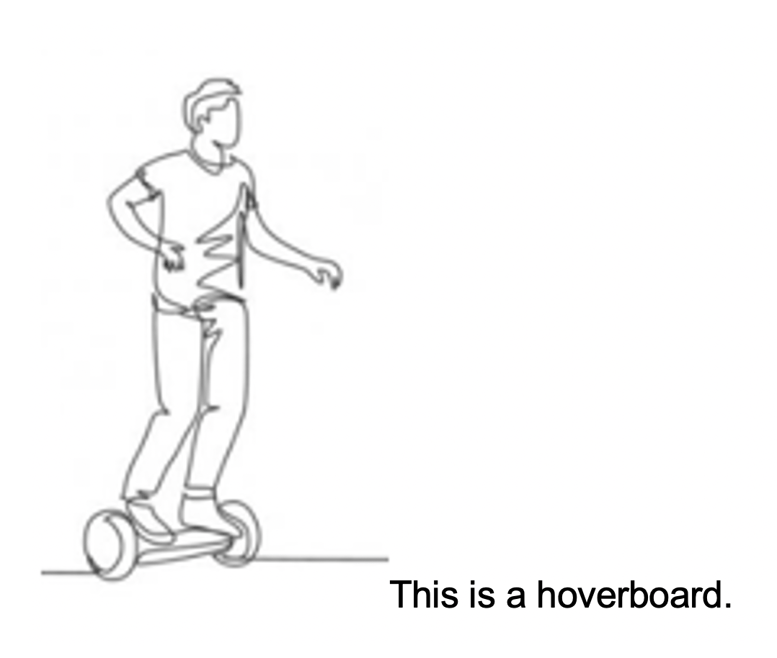 It might just be because we have a long, straight corridor, but I can easily picture someone riding that around the office. That's something I wanted to see myself!
Q: Has anything that happened in the cafe left a strong impression on you?
The moment when people say thanks, bon appetite, or tell us their drink was good. We're also thrilled when someone tells us that they liked a new drink or when they have a reaction to a seasonal drink created by a staff member that's on the menu.

Most employees work from home now so we see less people directly, but some employees have been kind enough to give us some sweets they made, or send a New Year's greeting card to the cafe staff.

We also get people telling us when the sugar or napkins for drinks are about to run out or bringing us things people have left behind. We're always so grateful.
Q: Is there anything you keep in mind as you operate the cafe?
Taking a break is important when you work in an office, so we try to make this space one for everyone to relax. We design new drinks to make them something that will give you a recharge after drinking, and we also make sure to give our best smiles!

We hope that coming to the cafe makes all employees feel refreshed and recharged when they're tired from work.


I have been visiting the cafe for a long time, but this was the first time I have actually hearing the thoughts and ideas of the café staff. Realizing once again that they are an employee-first cafe, kindly considering everyone's health and happiness, makes my love for the LFK Café grow even more. Isn't it lovely that we have a café like this in our company? Moving forward, I'll keep sharing all of the wonderful aspects of LINE Fukuoka.
Stay tuned for volume 3 of what I've decided is going to be called the LINE Fukuoka "Suteki Series!"
Thank you to everyone at the cafe, as well as Ms. Oyamada from the Design Team, Mr. Yamanouchi, Mr. Tokeiji, Ms. Shimokawa, and Ms. Kawai from the illustration team, for your cooperation!
Follow us on social media to get regular updates about the initiatives LINE Fukuoka is undertaking!