A Behind the Scenes Look at how 1,500 Vaccines were Administered in the Workplace with No Waste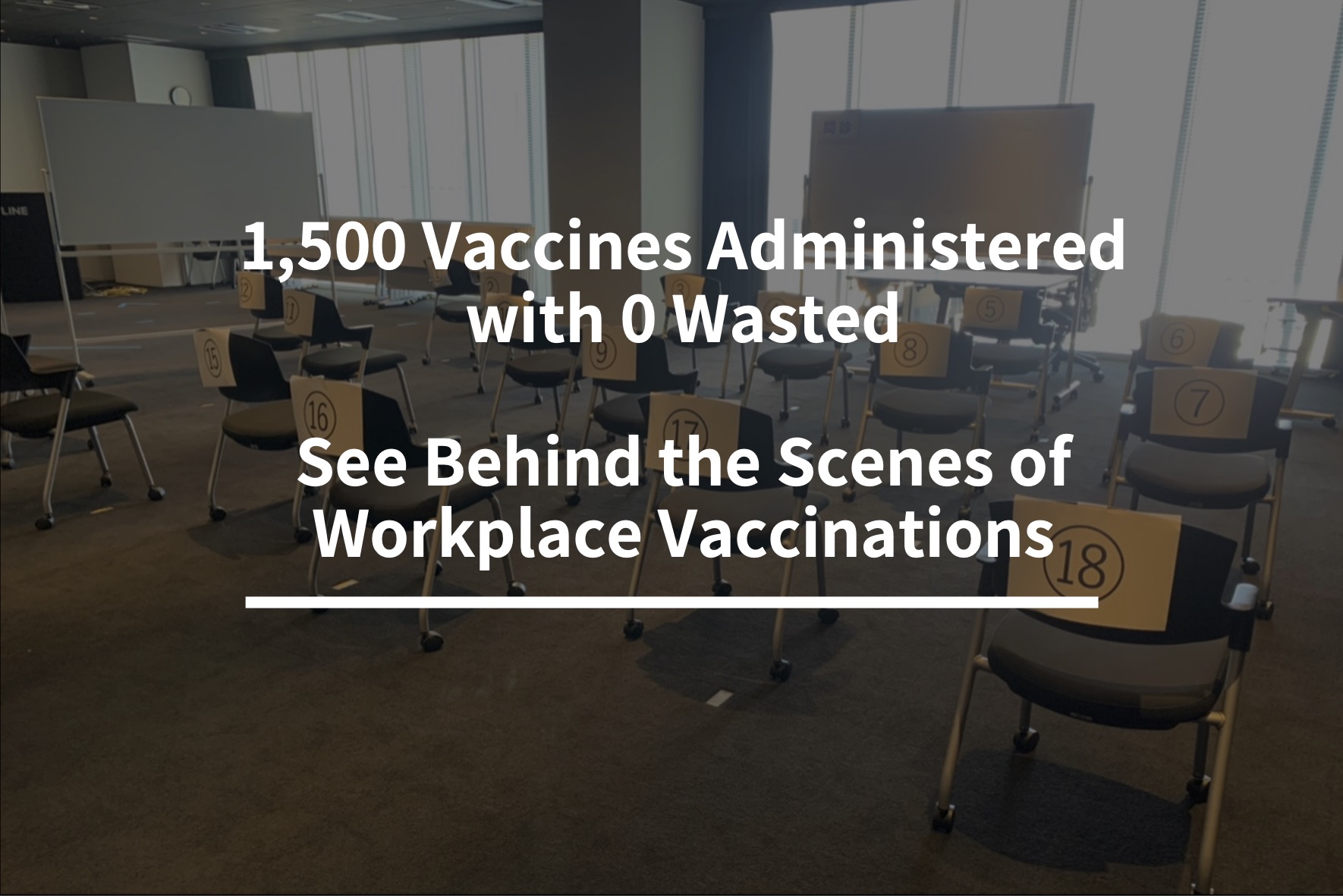 LINE Fukuoka conducted workplace vaccinations from July 2 to August 10, 2021. As issues with vaccination dose wastage came to light, the company successfully completed the vaccination of 1,500 people including employees and their family members¹, as well as other companies in the area such as the Mercari Fukuoka office with no vaccine wastage.
In this article, we will introduce some of the solutions and measures that LINE Fukuoka took to achieve zero waste in vaccinations after learning that vaccinations would once again be offered to companies.
¹Family members include common law marriages and partners living together
■ Operational tips that led to wasteless vaccinations
①Have a clear picture of the number of required doses in advance
Before the Ministry of Health, Labor and Welfare began accepting applications for workplace vaccination, LINE Fukuoka used its in-house survey system to check vaccination needs of employees and their family members. We also received vaccination requests from companies in the area, and we had a general grasp of the amount of vaccinations we needed for the first dose.

②Timely and flexible response to vaccination cancellations and additional requests
・LINE Fukuoka created its own vaccine reservation system, created a schedule, and responded to requests for changes, cancellations, or additional vaccination requests smoothly. The system also reduced the burden of managing appointments.

・The company was prepared for leftover doses due to cancellations on vaccination days by having managers who had appointments for a different day wait, and having those waiting managers get vaccinated when a spot opened up.

・Additionally, LINE Fukuoka worked with companies that requested vaccination, and contacted them in advance or on vaccination days to have their employees come receive their vaccines when slots were open.

・Support was also provided for those who couldn't receive their second vaccination for personal reasons, but couldn't find a vaccination center that would allow them to get just their second dose. Those who couldn't receive their second workplace vaccination were given information about other healthcare facilities that were offering vaccinations and an appointment was made for them.

③Information regarding vaccination disposal media coverage was collected, and measures to prevent any mistakes in storage were ensured
・Disposal due to opened containers being left in refrigerators → Refrigerator doors sealed shut with hygenic tape

・Preparation for situations such as a blackout due to a typhoon → Emergency power and uninterruptible power supply were prepared

・Temperature management mistakes due to equipment malfunction → Ledgers maintained every day while vaccines were stored in freezers and refrigerators.

・Refrigerators being accidentally unplugged → Refrigerators plugged into the ground, and fixed so that they can't be accidentally unplugged

・Vaccine storage management → Storage locked so that those not involved in vaccine administration can't enter

④Involve a multitude of people to achieve "0 vaccination waste" and unify to provide support
・To carry out workplace vaccinations, multiple working groups were created that regularly held meetings. To share information in a timely manner, various working groups composed of members from HR, internal IT, and General Affairs came together at meetings for the building of the reservation system, venue establishment, vaccination operations, coordination with healthcare facilities and parent companies, and regularly reporting to the management.

・Executives gave a strong message of "not wasting precious vaccination doses, and aiming for 0 waste until finished," so preparations were both busy and nerve wracking, but those involved came together and passionately worked toward that goal.

▼ The workplace vaccination venue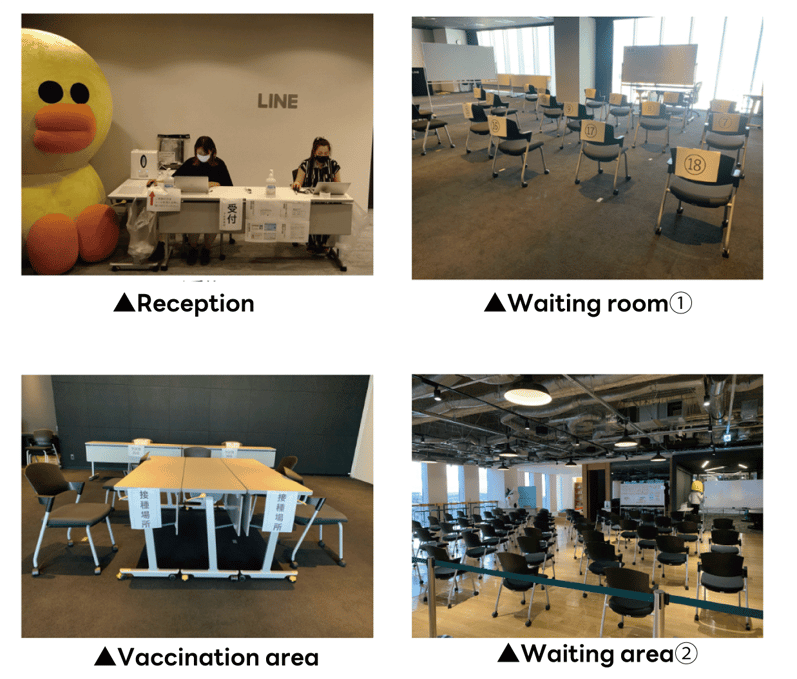 ■A behind the scenes look at the vaccine reservation system that was released in just eight days
Issue:The LINE Group was planning to introduce uniform tools for a vaccine reservation system, but taking consideration that Tokyo and Fukuoka are contracted with different healthcare facilities and in view of the time required for security and internal system upgrades, development of an independent system began.

Solution:予Developing a reservation system from scratch is expected to take two or more months, but it needed to be released in just eight days. Based on our reservation system for regular health checks and influenza vaccinations created in OutSystems¹, the new reservation system was developed with the minimum features required for those who want to be vaccinated to be able to adjust their reservations.

Result:8The system was successfully released in eight days. This system allows for reservations and open slots to be confirmed in real-time, and because the system allows for a cancellations or rescheduling to be done flexibly, people making reservations and those managing them could reduce the amount of work they had to do and vaccinations could be rapidly administered.

¹OutSystems: A low-code platform that allows for development in a short time

▼ Structure of the vaccine reservation system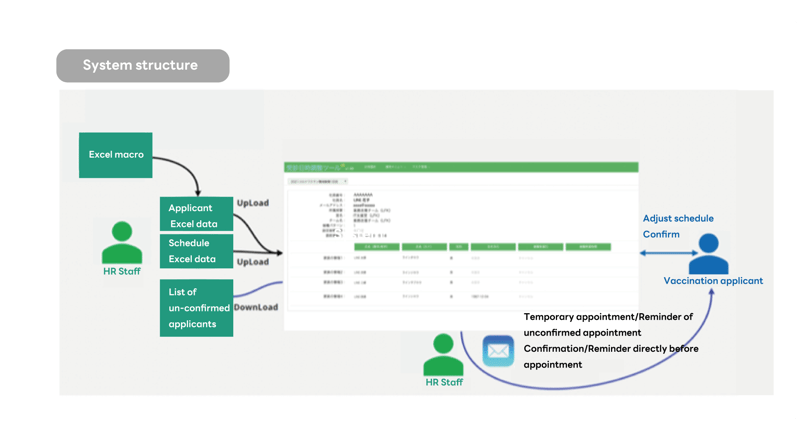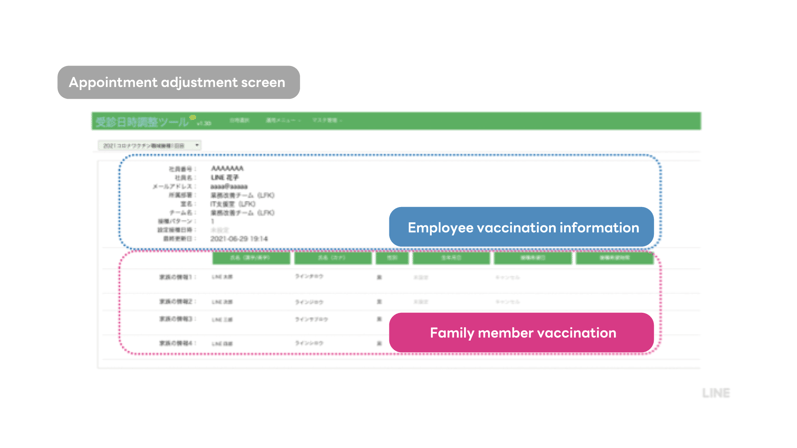 <Message from Mr. Yusuke Shinagawa - Department Head of the LINE Fukuoka Corporation HR Department>

"We were able to accomplish workplace vaccinations quickly largely because the day the government began accepting applications we were able to request the precise number of doses that we needed. The accuracy of our advance surveys had a big impact on that. I think we have achieved this because it's part of our culture to complete internal surveys on a regular basis.

With cooperation from the IT Support Department, we were also able to create our vaccine registration system within eight days, and on vaccination days, the Universal Support Team and LFK Care worked together with the HR Dept. to provide support in their fields. We worked together with managers to avoid having to dispose of vaccination doses."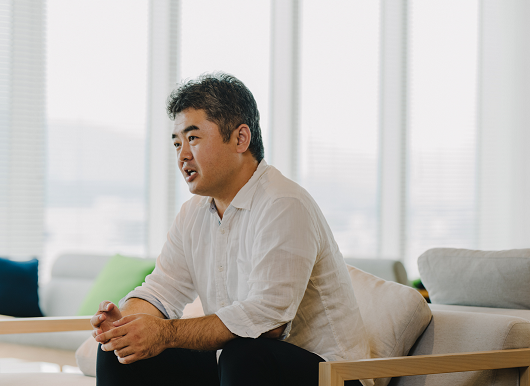 Note: Masks were only removed for photos
Moving forward, we will strive to create a working environment that ensures the safety and peace of mind of our employees and their family by taking the proper measures to prevent the spread of infection in our offices and ensure stability in business operations as a member of the region to find a solution to the COVID-19 pandemic.
▼ You can find Mr. Takashi Kaida's (the Enterprise IT Center Vice-Center Head/IT Support Department Head) Twitter account here!
Mr. Kaida shares information about Digital Transformation (DX) and stories about internal IT work!