The Fukuoka City LINE Official Account Receives a New, More Convenient Look!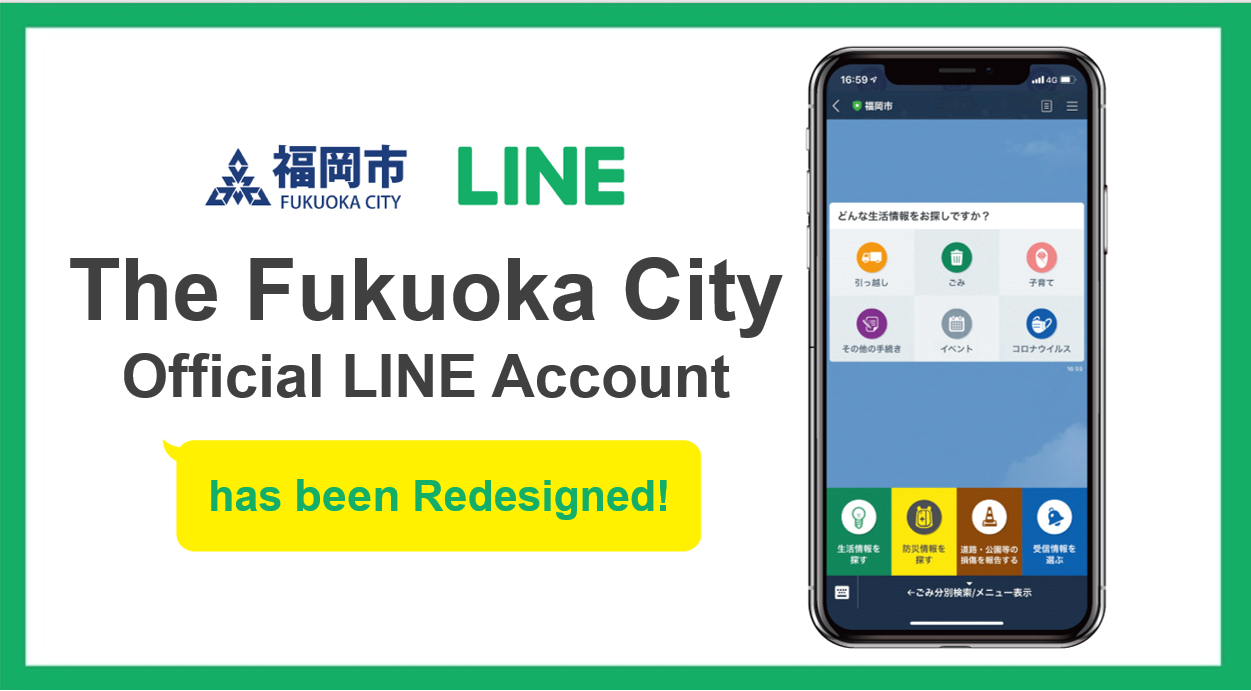 The Fukuoka City LINE Official Account began its operation as a co-creation project between LINE Fukuoka and Fukuoka City.
The account has over 1.65 million registered friends as of March 2020, and offers a wide variety of useful features to residents, such as a feature that lets people receive only the information they want, the "Oversized Garbage Reservations" (粗大ごみ受付) feature, and the "Infrastructure Report" (道路公園等通報) feature.
And now the
Fukuoka City LINE official account has a new look!
Two aspects of the account received a major overhaul:
1. A design that's easy for anyone to use
2. The launch of the "Childcare Assistance Feature" (子育て案内機能)
Fukuoka City will begin official operation of the redesigned account from April 1
. We hope that you'll take advantage of the revamped account!
1. A design that's easy for anyone to use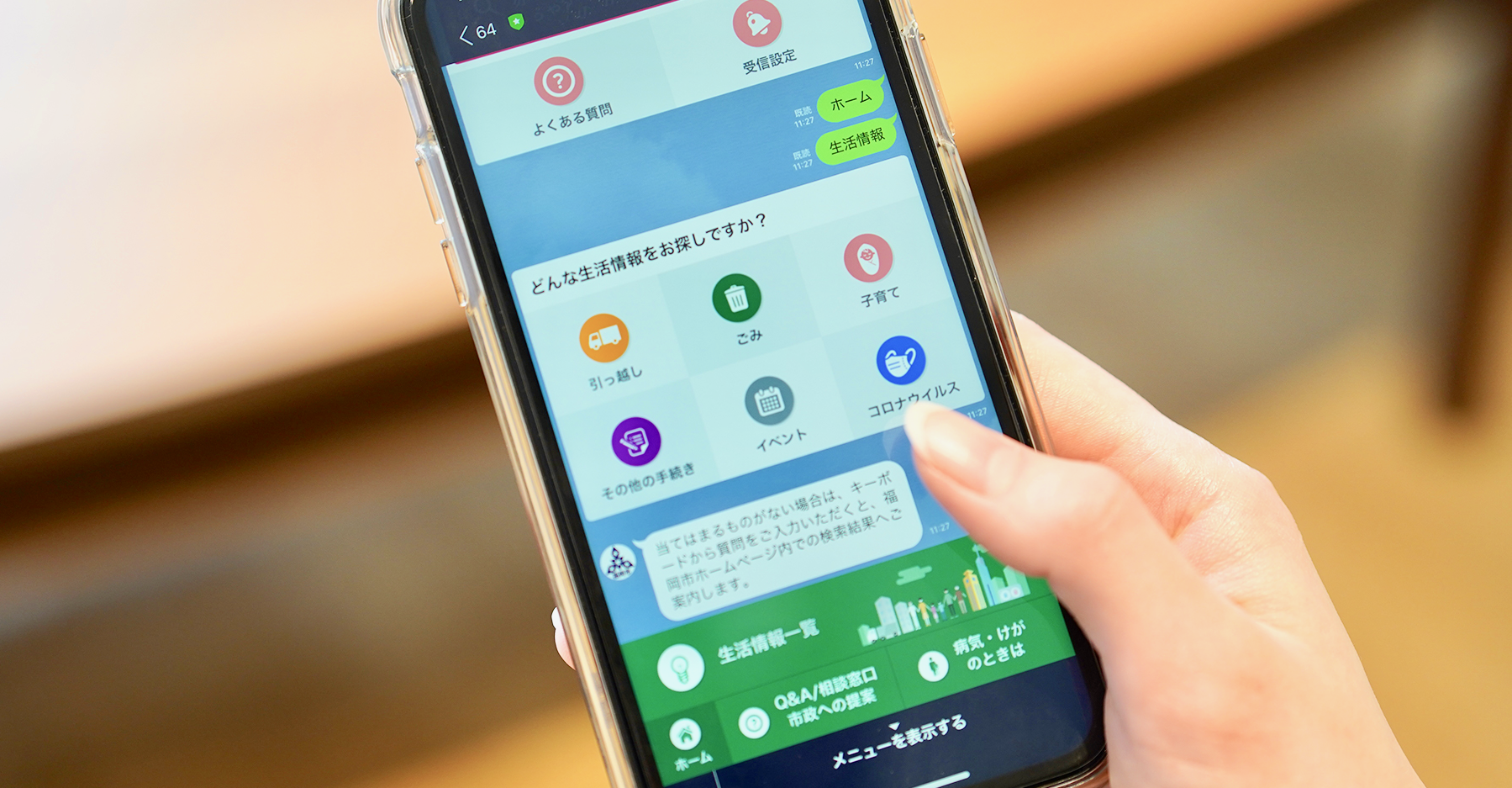 We conducted interviews with people from their teens to their seventies, and searched for clues about how to improve the account through behavioral observation. The account's user interface (UI) and user experience (UX) then got a major overhaul based on what people did and how they looked at their screen.
As a result, we were able to make categories and displays more intuitive!
Another goal was to "make the account design easy for anyone to look at," so the color of icons and text were decided based on color universal design and Fukuoka City's accessibility standards. The size of buttons and speech balloons were also adjusted.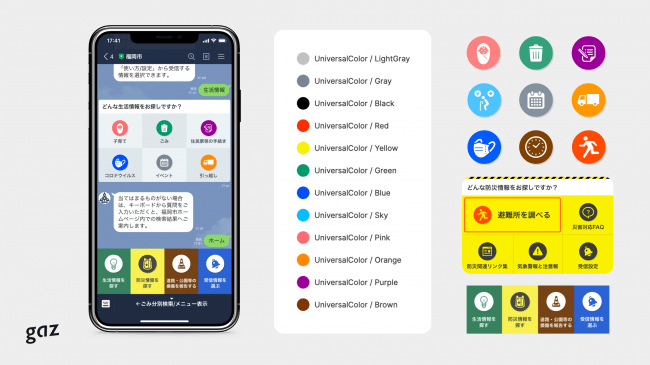 This redesign was done together with
gaz, Inc.
, a design firm located at the "Fukuoka Growth Next" startup hub.
2. The launch of the "Childcare Assistance Feature" (子育て案内機能)
The
new Childcare Assistance Feature is being added
to the Fukuoka City LINE Official Account. The feature offers a wealth of functionality to assist busy parents, who can now search for "Baby Stations" (赤ちゃんの駅) when they are out of the house and need to nurse their child or change their diaper. They can also get answers to frequently asked questions (such as how to receive childcare allowance or find temporary childcare facilities) based on their child's age or their household situation from a chatbot.
Today we'll introduce a portion of what the feature can do.
① "Is there anywhere I can change my child's diaper nearby?"
  →

Search for a "Baby Station" (赤ちゃんの駅) on LINE!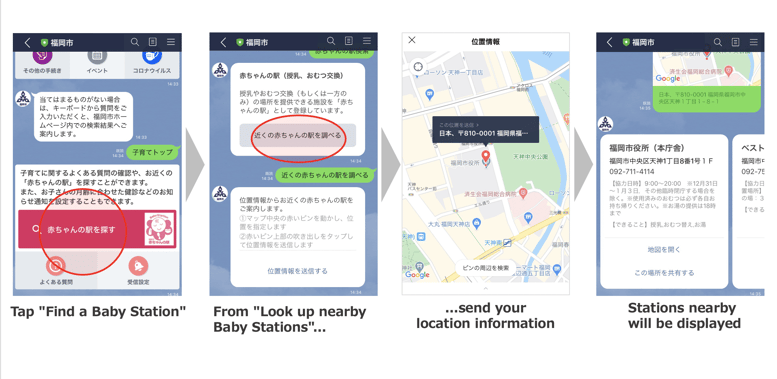 ② Vaccinations, daycare facilities, and childcare allowances
 

A chatbot will lead you to the information you need

!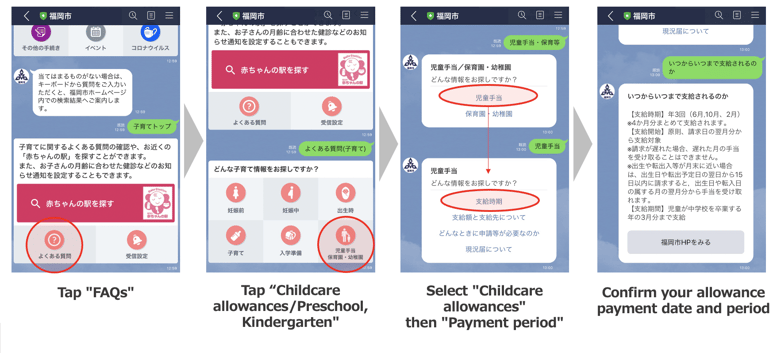 The Fukuoka City LINE Official Account offers easy-to-use features that allow users to be more familiar with various government services.

Moving forward, we hope to strengthen the connection between the local government and Fukuoka's citizens and contribute to the building of a strong, affluent city by making the account one that easily and seamlessly offers a variety of government services to even more people.
[About the Fukuoka City LINE Official Account]
https://www.city.fukuoka.lg.jp/shisei/kouhou-hodo/social/line.html

[Inquiries about this Post]
https://linecorp.com/inquiry/smartcityproject/form.html

[LINE Smart City Fukuoka - Case Studies of City Problem Solving With LINE]
https://linefukuoka.co.jp/en/project/smartcityproject/#casestudy

[LINE Fukuoka's Official Social Media]
LINE Official Account (LINE ID: @linefukuoka)
Facebook Twitter