Learning the Secrets of "1-on-1s" to Achieve Improved Productivity and Teamwork, Even When Working From Home!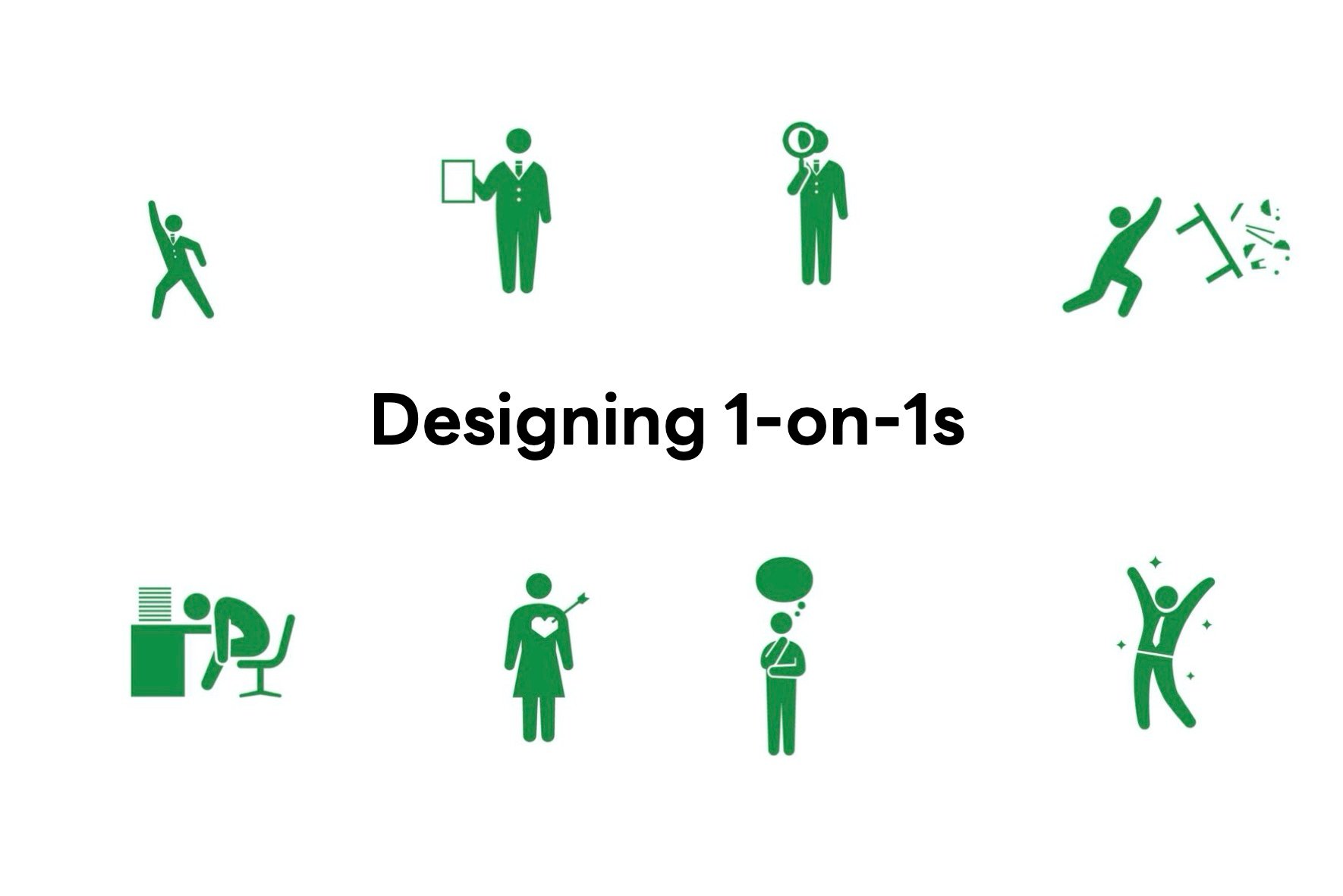 Hi, this is Ayako Harada with LINE Fukuoka's HR Team.

Due to the COVID-19 pandemic propelling work-from-home (WFH) arrangements, it's harder to see how employees are doing, and management has become more difficult than ever. In order to preserve the quality of our work under these conditions, we planned and held a "1-on-1 Training Session for Managers."

In this post, we'll share some of the training we held for management through lectures and hands-on practice, as well as feedback from participants! If your company is facing productivity/management issues under WFH arrangements, we hope this article provides you with some helpful references.
Offensive "1-on-1s" that lead to growth: They're not just to support your members!
What's a 1-on-1?
1-on-1s are once weekly or regularly held meetings between a supervisor and their employee. These meetings (which last about 30 minutes) are an opportunity for supervisors to catch up on their employees' worries about their work or career and provide support.
Even before the pandemic, LINE Fukuoka promoted 1-on-1s targeted at checking the growth and condition of team members or following up on work. Improving skills for holding 1-on-1s not only eliminates the work and communication issues that arise from "not being able to see each other" while working from home, but also promotes growth in team members, which leads to increased productivity.

Mr. Hiroshi Komukai established 1-on-1 training at Yahoo Japan Corporation, and is currently in charge of talent and organizational development for LINE Corporation's People Partner Department. LINE Fukuoka's HR Team invited Mr. Komukai to be an advisor and lecturer at a three day "1-on-1 Training Session for Managers" held under the team's guidance.

Mr. Komukai has been covered by a variety of media regarding 1-on-1s since his time at Yahoo! (Sorry, these articles are only available in Japanese.)
Contents of the "1-on-1 Training Session for Managers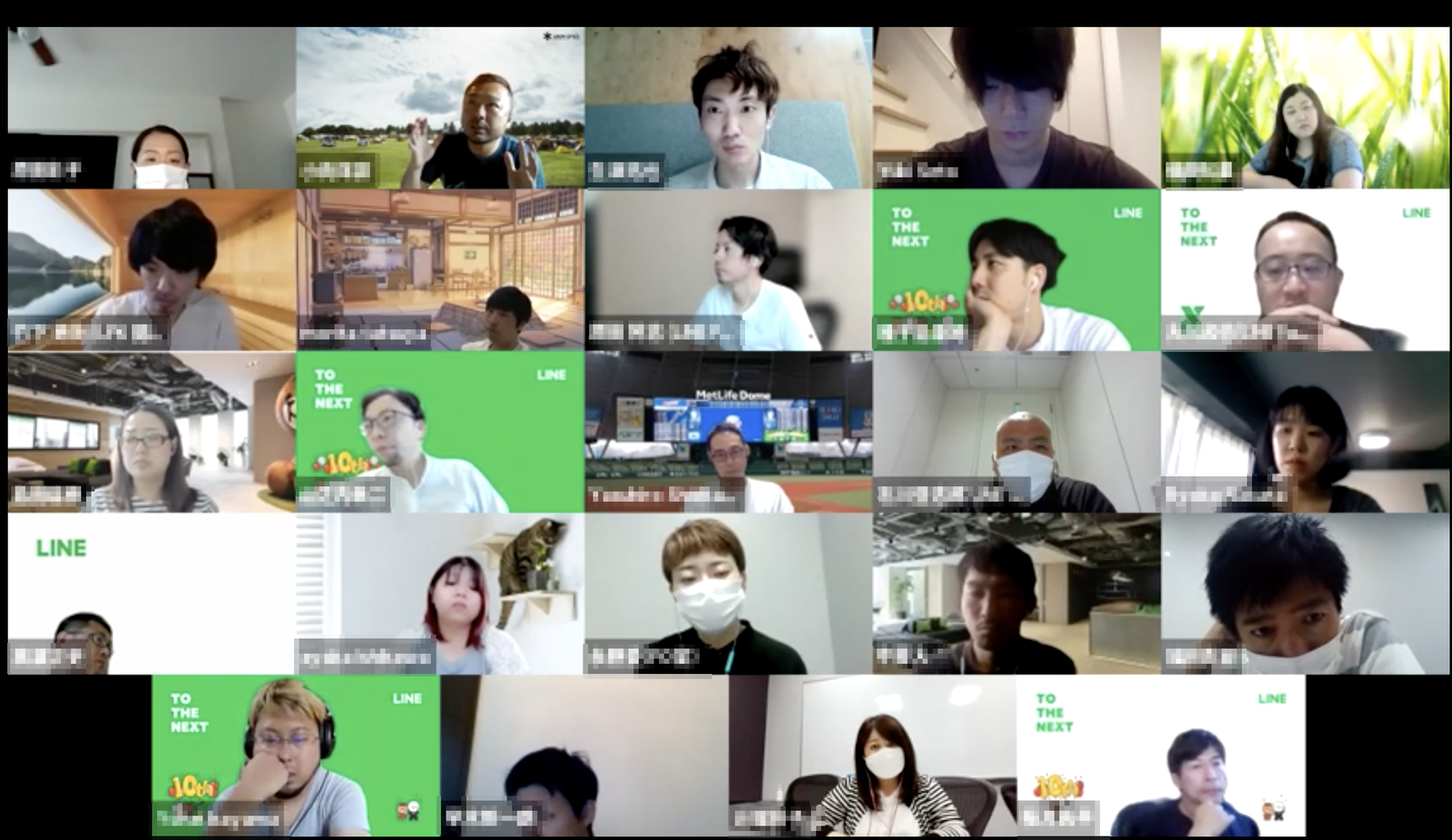 Session one: Designing 1-on-1s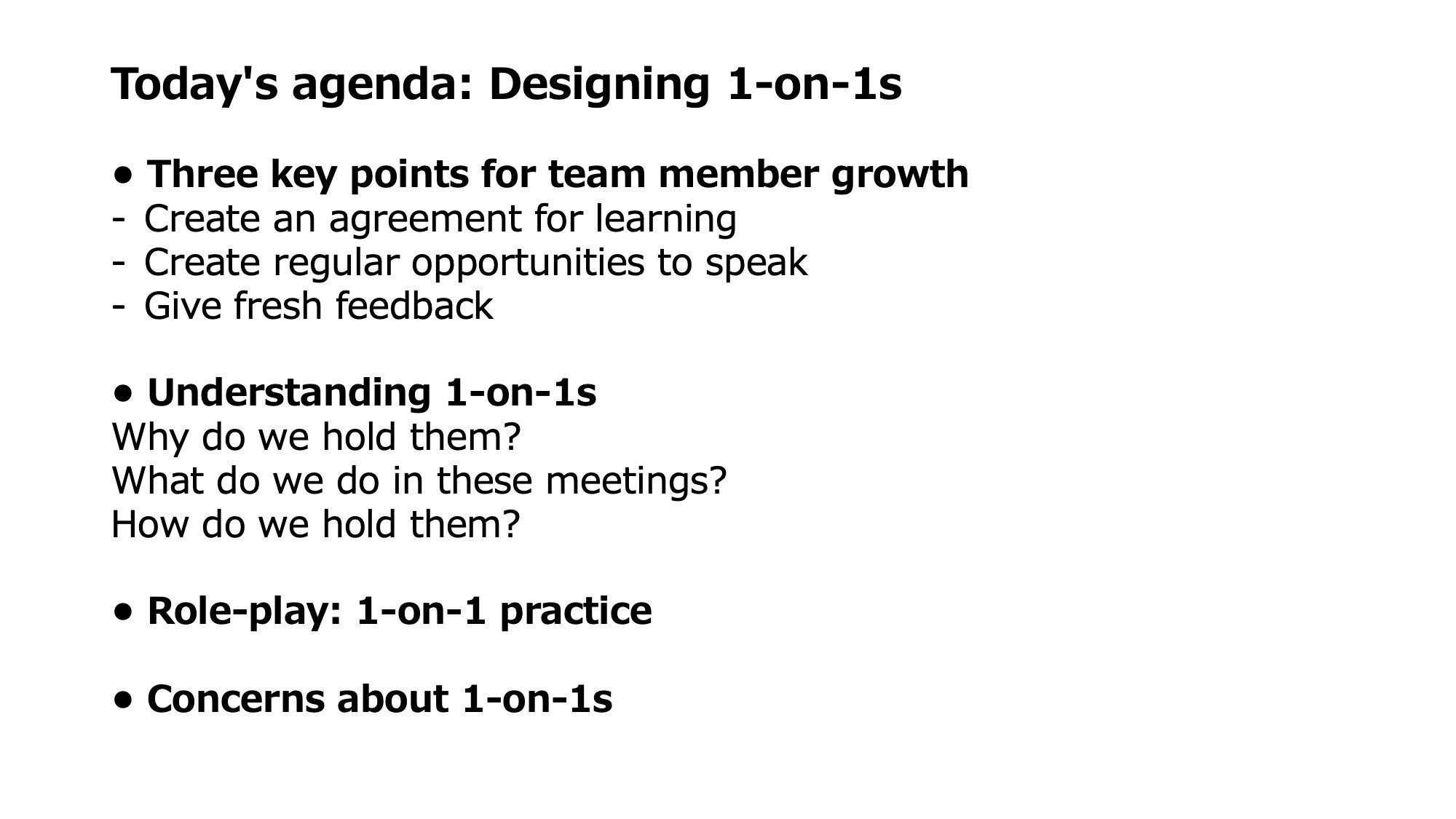 This lecture covered philosophies about management and team member growth, the basic structure of a 1-on-1 meeting, and ideas as well as specific actions to take to encourage growth through the meetings.

During the discussion time, participants reflected on how much there is to learn from even a little feedback. One person said, "The concept of 'creating an agreement for learning with your employees was an eye-opener. I wasn't sure how much to point out up to now, but that made me think that first checking which skills an employee wants to build, pointing out things that contribute to that, and ignoring other details could be an effective way of offering feedback."
Session two: Coaching basics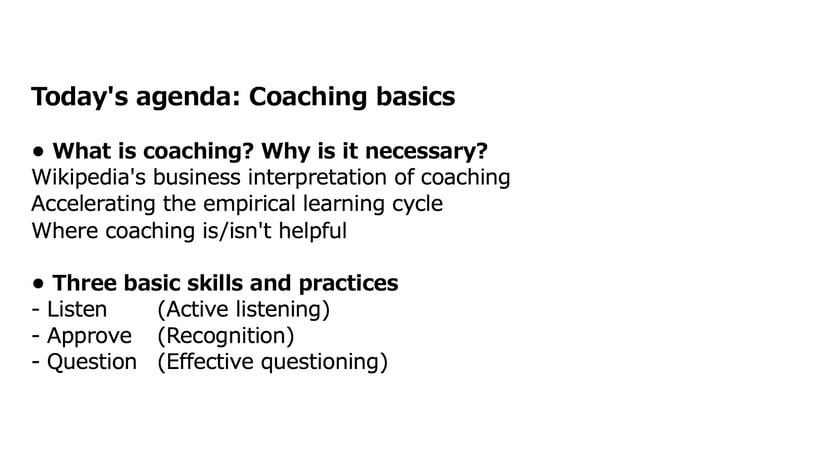 Mr. Komukai started this session by asking what participants thought coaching was. Most participants didn't seem to be confident in their answers, and guessed that it was just teaching. This led them to realize that they had a vague understanding of the topic.

In session two, managers learned ways of thinking about, important points of, and specific methods to acquiring the communication skills they need - teaching, coaching, and feedback.
Session three: Feedback basics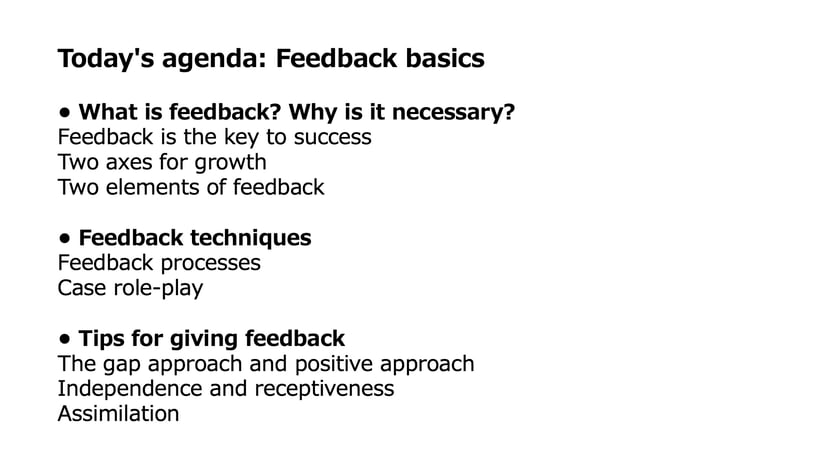 The third lecture covered the crucial topic of "feedback basics." Managers need skill and courage when conveying negative feedback, which can be especially hard to hear. Mr. Komukai gave a lecture about how to assign work and provide support to encourage growth, as well as feedback philosophies and methods, frameworks, and tips for improvement.

This is a slide from the role-playing section of the third training session. In a case like this, how would you give feedback?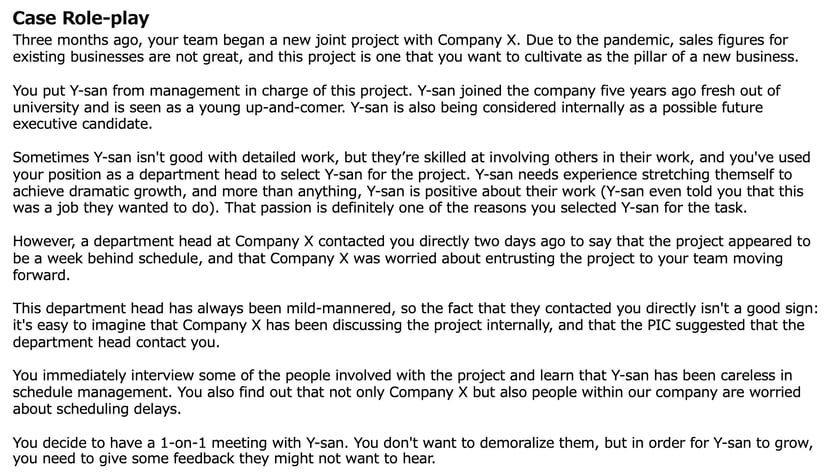 As a way for the participants to learn through lecture and practice, we also conducted a survey targeting their employees after the "1-on-1 Training Session for Managers." One of the questions we asked was "What do you think about your 1-on-1s with your supervisor?" Through this question, employees were able to give feedback to the lecture participants about the results of what they learned and put into practice.
Feedback from 1-on-1 training participants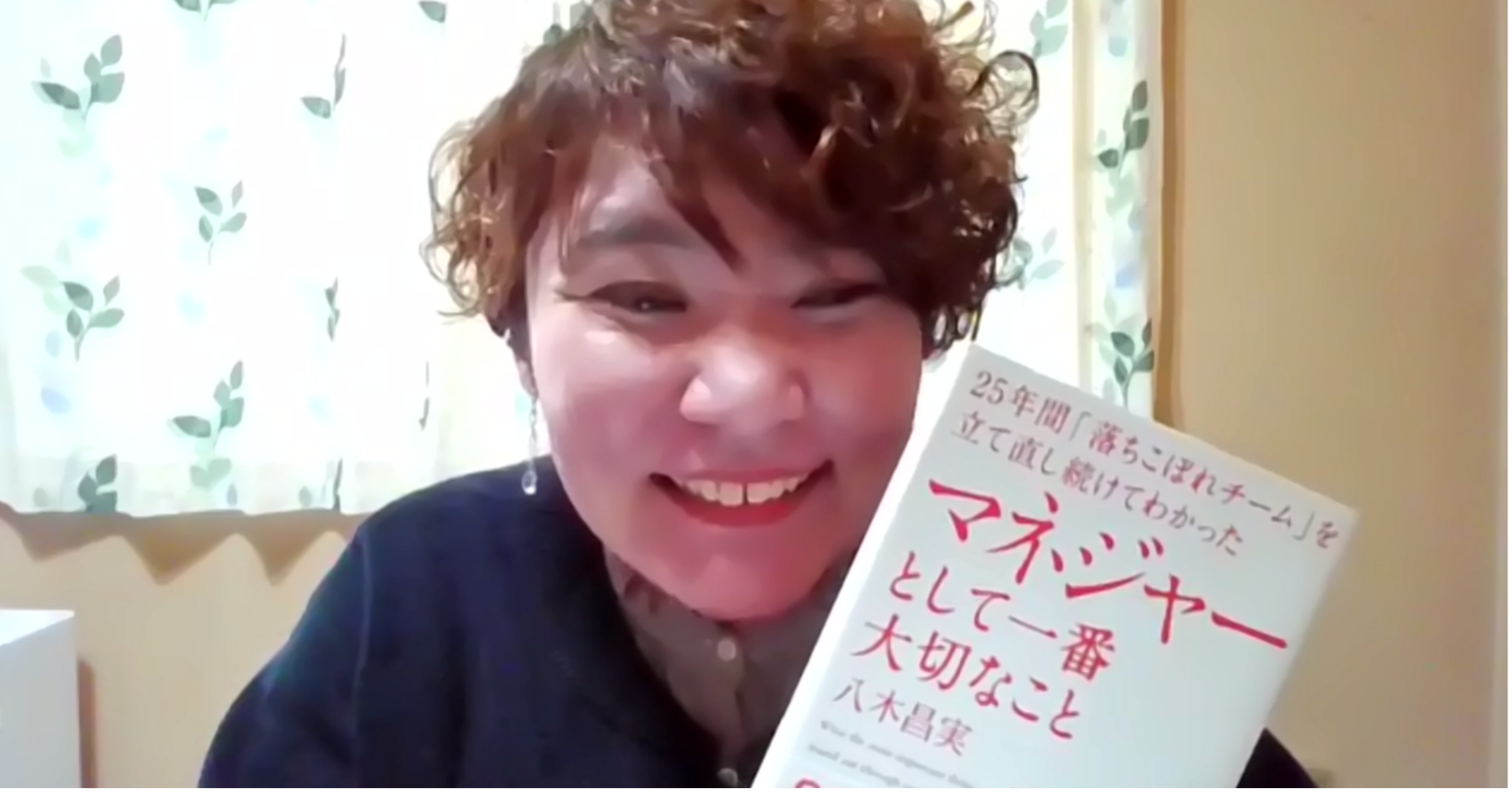 (This is Mio Inamoto, one of the training participants. Even before participating in the training, she bought books to study how to become a better manager.)
After joining LINE Fukuoka, Ms. Inamoto gained her first experience as a leader, and is now the Assistant Manager of two Parts in the LINE TEST Department. She wanted to learn more about the role and basics of being a manager, which is why she joined the 1-on-1 training session, so we asked her what she thought of the training.

"Up to now, I was only focused on caring for the feelings of my team members, but I realized that it's a waste to not implement more coaching elements that nurture independent action and thought from them. So now when I hold 1-on-1s, I try to say things that make them think about why something did or didn't go well."

"I'm not sure if it's a result of the training, but I feel like the members of my team are starting to independently work to improve issues that previously tended to accumulate!"


Other participants have told us how they're trying to proactively hold 1-on-1s that lead to the growth of their employees, or the results of putting the lectures into practice. We've received feedback such as "I was unclear on what coaching was, but the training helped me understand it," and "1-on-1s used to be a process of trial and error, but now it's clear to me how to do them and I can talk in more specific terms with my members."
Lastly, we have a message from our lecturer, Mr. Komukai.

"Recently, the way we work in business settings has changed drastically, and I think there are three causes for that change:
1. A results-oriented approach that focuses on achievements rather than processes;
2. The application of IT that only raises productivity; and
3. A rapid shift in working arrangements due to the pandemic where people aren't restricted by a time and place."
 
"Results and productivity are up, and our working arrangements have become freer. On the other hand, I think 'a dramatic shift to individualization in work' has also occurred. That shift isn't always bad, but when you're working alone, sometimes you want to ask for help, right?"
 
"I think the 1-on-1 communication method alleviates issues that arise due to individualized work, and creates an organization where members can work independently and actively."

LINE Fukuoka also offers other training to all employees, providing them with opportunities to brush up on their skills. This includes facilitation training, logical presentation training, and training for communication while working from home.

The HR Team strives to create an office where employees can enjoy their work by utilizing employee benefits and training sessions to respond to changes in their working arrangements and environment. We'll continue to share the initiatives we're undertaking to ensure that work is rewarding through LINE Fukuoka Press, so we hope you'll bookmark the page!